TURN YOUR BEDROOM INTO THE SANCTUARY IT WAS ALWAYS MEANT TO BE
Bedrooms are not just for sleeping. Bedrooms have evolved into comfortable getaways for us to relax and unwind from our busy schedules.  Your bedroom should be your oasis.  It's the room that relaxes you and comforts you whilst you fall to sleep, and it's the space you then awaken in to begin a new day.  Whether it is decorated in a traditional or a contemporary style, the bedroom requires a sense of peace, luxury and harmony.
Have you ever been in a room that just feels right? This is usually because it has a simple design that works well. But creating a simple design is harder than it looks — particularly in bedrooms.  One easy way to start is to design your bedroom to appeal to the senses.  Indeed, no room is more central to your wellbeing and comfort, and absolutely everything in it should be designed to please your senses.  It is your sanctuary, and the emphasis on everything within this particular space really must be on luxury. You don't have to accommodate others; the bedroom is all about you – your comfort and your calm.
A room without a focal point is a strangely disconcerting one.  There may be warmth, light and a comfortable place to sit, but without a feature to which all eyes instinctively turn in moments of repose, it will never be a room in which people feel totally at ease.  Make your bed the focal point of your room.  Opulence is key.
Luxurious pillows, throws and duvets can help create an atmosphere of calm.  More so than other rooms, the bedroom requires you to bring in plenty of fabrics – cushions, bedspreads and throws – in order to build layers of harmonious elegance and texture.  Use tactile fabric such as a cotton, linen, silk, chenille and velvet.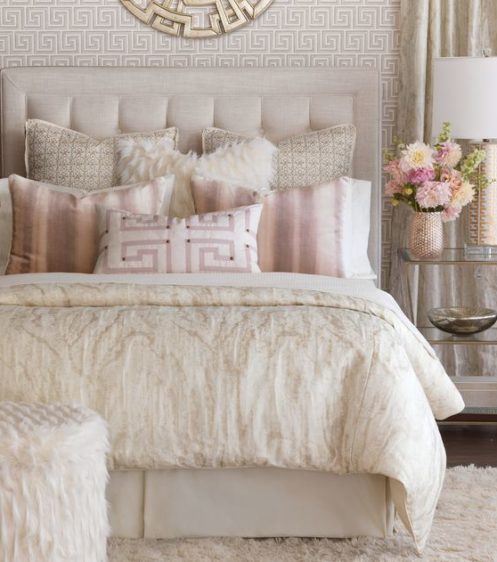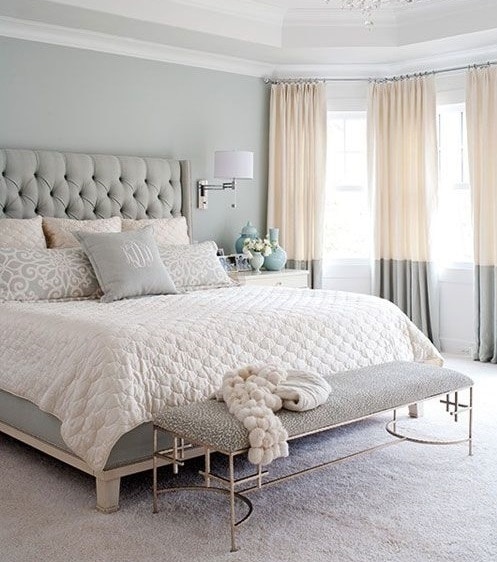 At first glance, the bedroom seems the least important room in the home in terms of lighting. After all, we're not really working in there much (unless it doubles as an office), and the primary goal of the space is to support sleep— which requires an intentional lack of light.
Once you start thinking about it, though, you realise the lighting needs of a bedroom — from ambient lighting for putting the laundry away to task lighting for doing your makeup and accent lighting for chilling out — are pretty complex.  A bedroom lighting scheme should be as considered as that of any other room, so set the mood with lighting.  Light should be soft and filtered; bright lights can detract from the ambience.   Install dimmer switches for your main lighting.  Use lower wattage light bulbs where possible, and keep bright lights for the wardrobe and dressing table area.  Use indirect lighting such as soft lamps and aromatic candles.  Chandeliers and beaded lamps and accessories also make the bedroom look luxurious.
Hang beautifully framed prints and works of art on your walls and choose colours that reflect your personal style.  Try to design the layout of the bedroom so that you wake up to a beautiful view.  It could be the view onto your balcony or terrace, but avoid positioning the bed directly opposite the door to the room.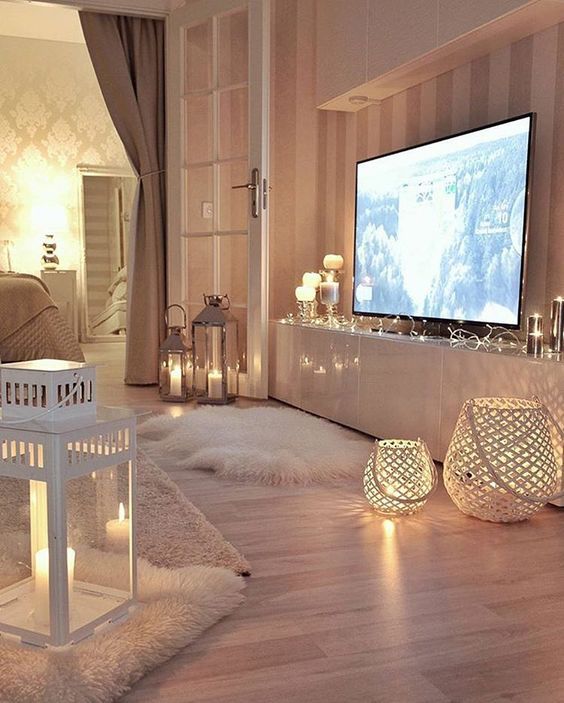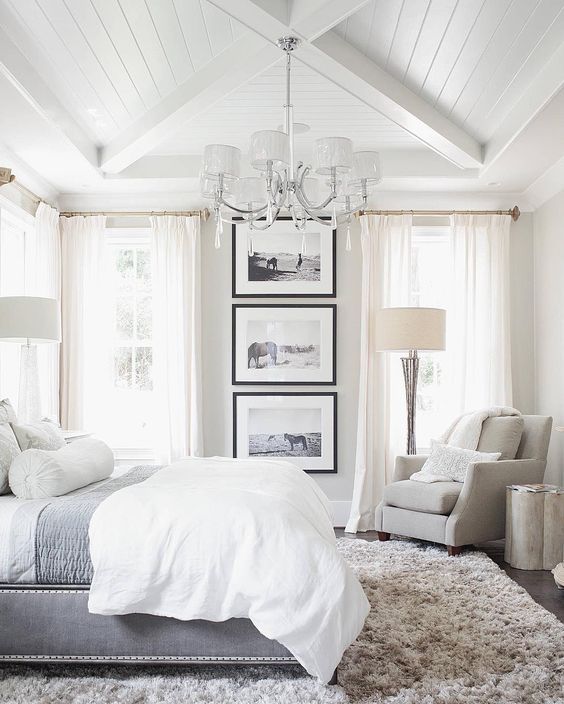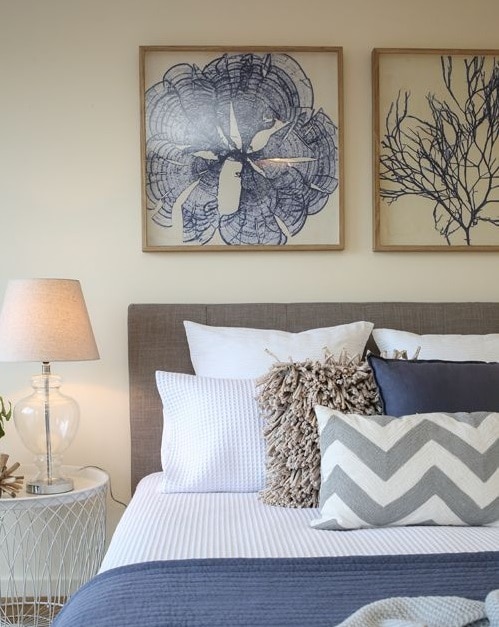 Use a lamp ring or an oil burner to fill your room with calming or sensual scents.  Place scented sachets of lavender or rosemary with your clean laundry so that your bed linen smells fragrant and fresh.  Fresh flowers provide appealing colours and scents.
Remove the television and ban the mobile.  A television set, both conceptually and visually is anathema to a calm retreat.  Keep your favourite music at your fingertips.  Soft music is one of the easiest ways to elevate your mood and will contribute to a feeling of relaxation.  If it is noisy outside your bedroom window, think about installing double-glazing and hang thick curtains to muffle the sound.
Make sure you install adequate heating and cooling systems in the bedroom.  Try to design the room to allow for ventilation and fresh air.  Bedrooms are very much about how they feel to you. When you walk in to the bedroom it should draw you in and feel comforting and warm. These feelings can be created by the your design choices.