Under-the-stairs Reading Nook
This little oasis of comfort beneath the staircase was a previously under-utilised space, and in many homes, this area is often visible upon entry into the home. In this project, our aim was to create an interesting focal point, whilst also creating a quiet spot to enjoy the sunlight flooding through the door to the internal courtyard. under the stairs reading nook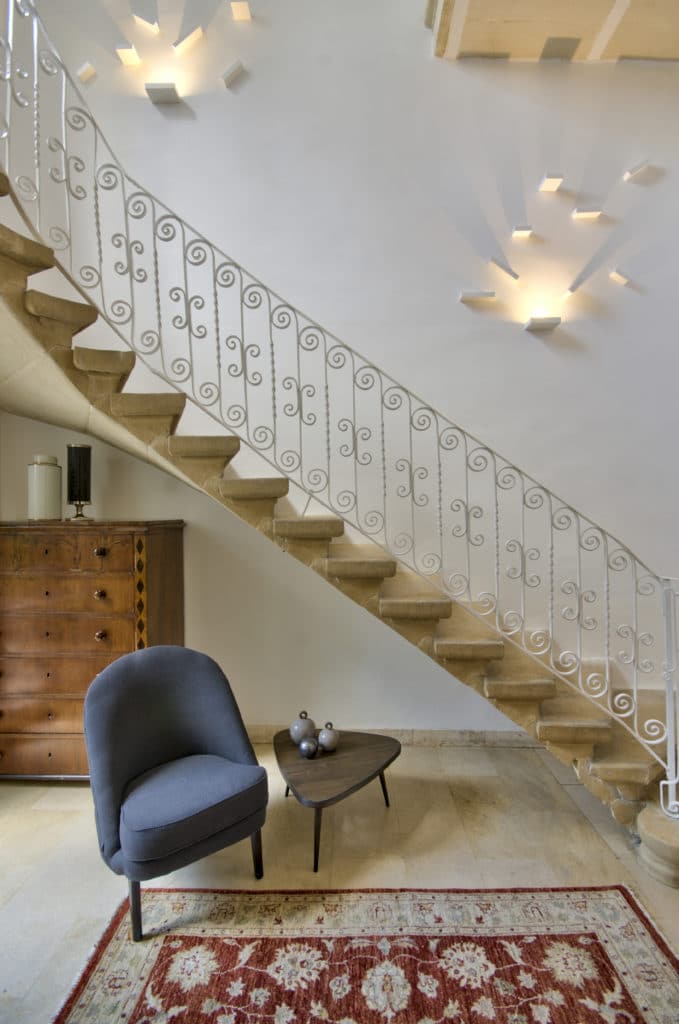 Our conceptual thinking was to focus on the clients' needs – adding much needed storage behind a comfortable armchair placed directly in front of the courtyard door. Whether you're drinking your morning cup of coffee or reading a magazine in the afternoon, this armchair is in the perfect spot to enjoy a little me time.
Previously, the staircase was nothing but a place for dust to gather. We completely redesigned the area, repairing the damaged stone steps, changing the colour of the intricate metalwork railing from black to white and adding sculptural light fittings on the staircase wall. We added a simple retro inspired armchair and a low table. Placed at the staircase mid-point, the chair is perfectly sized to fit the available headroom thus ensuring that no compromise to comfort or function was made. We opted for charcoal grey fabric to contrast against the honey-coloured limestone and whitewashed walls. The large antique chest of drawers provides much needed storage in the space.
No coffee table is complete without its own objets d'art. Here we opted for shiny ceramic spheres to contrast with the muted fabric tones and the matte finish of the table. These pieces keep the space interesting but are small enough not to distract one's eye away from the entire area.
When creating the concept for our projects, we love finding little spaces and giving them a new lease of life. What do you think of our little luxury under-the-stairs reading nook conversion? Are you ready to revamp your home and discover previously unloved spaces like this under-the-stairs reading nook? Get in touch at design@kristinebonnici.com