Maison et Objet – Interior Design Trends for 2019
We've just returned from a short (cold) visit to Paris where one of my favourite fairs is held every January.  Maison et Objet is a showcase of all the new trends, with many top design houses exhibiting their collections for 2019 and 2020.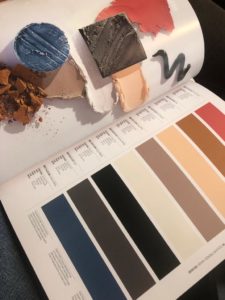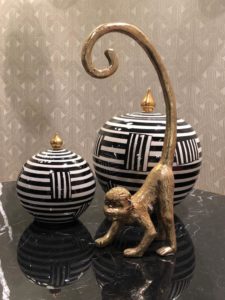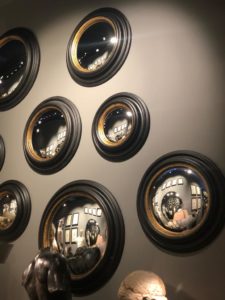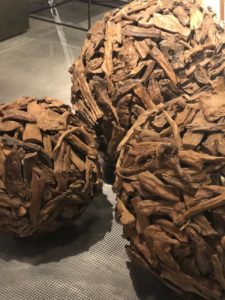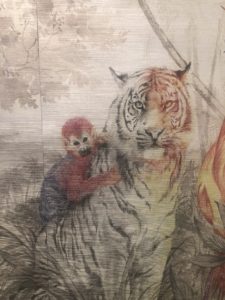 Monochromatic interiors with heavily textured fabrics were displayed throughout the fair.  White, off-white, stone and light grey tones were used for most of the upholstery, with blue, green and yellow being used as accent colours.  Murky blue, teal and navy, emerald and forest green, bright yellow and mustard were all heavily featured.  Coral was also introduced to some interiors and was teamed with blue and green to create a vibrant colour palette.  Black and gold were also very much in evidence.
Wood was used organically to create natural shapes with uneven edges.  Raw wood, driftwood and twigs add texture and mark a return to more organic spaces.  Twigs were used as inspiration for a number of light fittings.  Handles were also sculpted organically into beautiful shapes and twisted around pieces of furniture.
Velvet is still very much in evidence for upholstery, curtains, cushions and bed linen.  Most interiors featured leather as an accent – either for cushions or to add a strong line to the edge of some sofas.  Leather took centre stage when used for exterior furniture, with most high-end brands using treated leather to create stunning garden sofas, chairs and sun loungers.
Mirrors were everywhere – predominantly round mirrors in large sizes, with gold, black or timber frames.  Mirrors were also used as pieces of art, with black metal banding in geometric shapes to create interesting wall sculptures.
Heavily textured cushions in light colours were piled onto the sofas.  Wallpaper and wall murals were used throughout, with a focus on botanical images with whimsical jungle animals and leafy trees.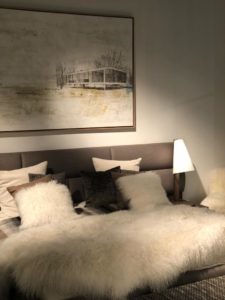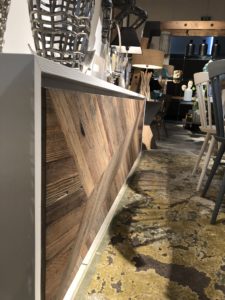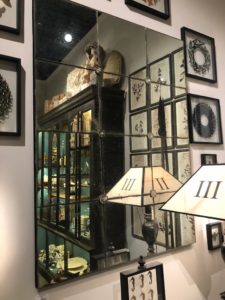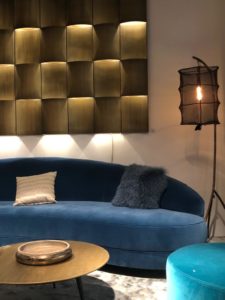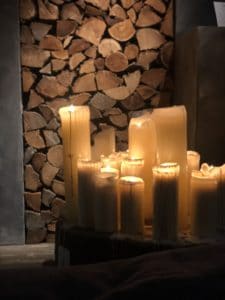 Classical elements were evident throughout the fair – deep buttoned sofas, beautiful stitching and corded fringes adorned most pieces of furniture.  Pieces were well designed with tailored elements.  Luxurious fabric, buttons, trimmings and edgings added definition to the outline and shape of the furniture.
A revival of glossy lacquered furniture in vibrant colours with metal accents was evident.  However, these were often put together with natural timber pieces to offset the shine.
Interestingly, most rooms featured a cluster of coffee tables at different heights rather than just one central table.  The tables usually featured a common thread – the same material or colour, but each table was either a different height, with round tables interspersed with semicircles to add versatility to the interior.
Chandeliers, sculptural fittings, floor lamps, table lamps, lanterns and candles were used throughout the interiors.   The focus was on texture and quality of light.
There was a distinctive nod to the styles of the 60s and 70s throughout the fair, with the focus being on a few well thought out objects rather than on a multitude of smaller pieces.  Art and sculpture were given particular importance, with mirrors featuring in almost all the spaces.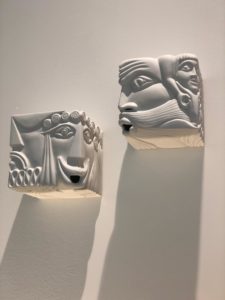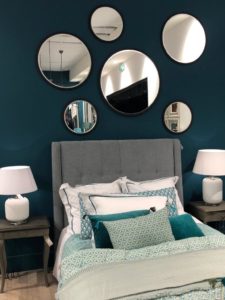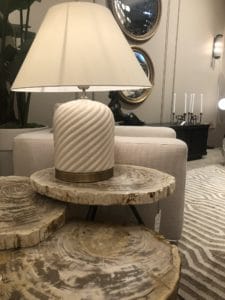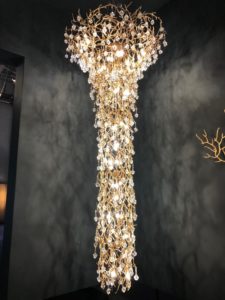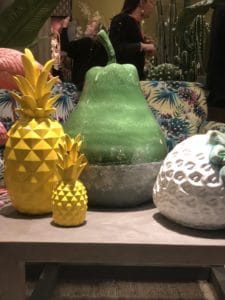 The next few years will definitely be exciting and we can't wait to start implementing these new ideas into our interiors.